Thanks to the UK Government's £300m / 40 MW revenue support, and its first 4 projects announced, Tidal Energy can now take its rightful place in the UK's mainstream electricity supply.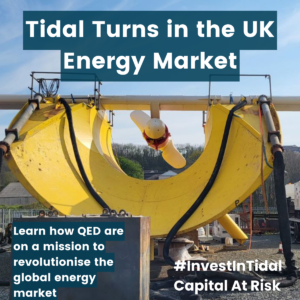 As the UK joins Canada and France in providing such support, the tidal sector has finally turned. The race will now be on to tie down the sector, its GVA and jobs. Hopefully the UK can continue to be a frontrunner in the developing global ocean energy market.
For progress to be sustained it will require long term, vision, planning and continued ringfenced support. With a global tidal energy market of £76Bn, and a predicted GVA of £1.4bl by 2030 supporting some 4000 jobs, the UK has one chance to secure this, otherwise it will be off like the wind – and overseas!
With wind currently under delivering, increasing grid balancing costs, and rapidly increasing household bills as we switch to gas and foreign imports – we urgently need predictable, tidal energy.
QED has developed Subhub, a self-deploying foundation system that saves over 60% on deployment and lifetime costs of tidal systems. Subhub also enhances yields on turbines by up to 48%, enabling tidal energy to compete on cost. With is well proven Tocardo turbines as seen in the Netherlands iconic OTP dam, and site pipeline, QED is well placed to help deliver this predictable energy.
You too can join the QED journey and invest in our crowdfunding campaign. With this funding round, we're looking to supercharge our growth, by bringing investors like you on board as shareholders.
Pre-Register your interest here: https://www.seedrs.com/qed-naval1/coming-soon
Capital At Risk. Approved by Seedrs.
#investment #Tidalenergy #cleanenergy #Climatestrategy #cleanenergyrace #investors #investments #investmentopportunity #impactinvestment #sustainableinvestment #sustainability #energy #renewable #oceanenergy